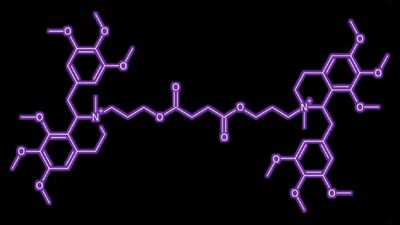 PAGE UNDER CONSTRUCTION.
This one's one of the most potent and longest lasting out of all the neuromuscular blocking agents. That's why its nickname is Nuromax. It's an NMB to the max. It's also a really beautiful molecule. I love it.
It's nondepolarizing and a bis-benzyltetrahydroisoquinoline. Man, I love that word. Doxacurium's structure is basically a hybrid of succinylcholine and d-tubocurarine, like someone cut a molecule of d-tubocurarine in half and stuck a succinylcholine between the two halves, with a few added oxygens on the ends. Chemical formula is C56H78N2O16.